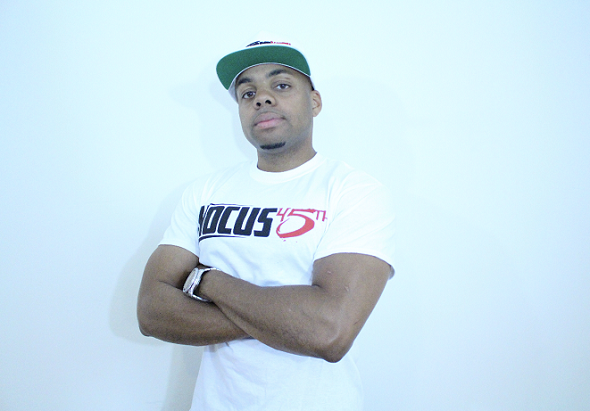 [Video] Hocus 45th - Blazin Billy
Stay Connected: TW @hocus45th_ | IG @hocus45th | FB HOCUS 45TH
Born in Harlem and raised in the Bronx Hocus 45th fell in love with hiphop at the age of 8. Introduced to the art by his father, Hocus use to rap to his father who told him that he was going to make it big one day. When Hocus was 12 year old his father who was his mentor and best friend died from a heart attack leaving behind 8 sons and 2 daughters. Devastated by his fathers death, Hocus hit the streets at a young age looking for that connection he once shared with his dad.
As a young teen Hocus started to sell drugs (crack cocaine) in the hood. When he was 17 he joined a gang known as 'SEX MONEY MURDER', a subset of the bloods, which would later haunt him in ways he couldn't imagine. while doing his thing in the streets, Hocus caught a couple of cases ranging from Attempted murder, direct sales and gun possession and luckily he either found his way around it or doing little jail time. through all the hustling and gang banging Hocus never gave up his passion for music he once shared with his best friend, his father. he would join cyphers and started to gain the interest of his peers in and around the surrounding neighborhoods. In 2008 along with his friend P.O., they started a movement called Bang Bang Boogie which consisted of rappers Cuban Link, Lord Tariq, Mysonne, his brother S-1 and himself. Heavily cosigned by hiphop's giant 50 cent and promoted by G-Unit, the movement was definitely on its way to success.
Hocus decided to leave the streets alone and focus on his passion for music, thinking to himself how he's making his dad proud. But little did he know his past would catch up with him. Hocus and his rap crew (Bang Bang Boogie) was featured in the august 26th issue of the billboard magazine. Things was seeming on the up and up but a little over a week later the Bronx district attorney office would come back with a secret indictment arresting Hocus, 2 of his brothers and 22 others on conspiracy and related charges. Headlines read "Kings dethroned, castle hill gang busted on drugs and murder".
After awaiting 4 long years on rikers island, facing life in prison, Hocus would finally have his day in court. The trial lasted 2 long lengthy months but in the end Hocus was acquitted on December 12, 2012 (12/12/12), found NOT GUILTY on all charges (8) by a jury of his peers. Since his release he has been pursuing his passion for music but in jail he found a new love. He read books on health and nutrition and became a vegan. Hocus now go to schools and group homes to talk to kids and troubled youth about health, gang violence and his life in hopes that his testimony will be an example to help them to not make the choices he once made in his past, and encourage them to always strive for greatness and pursue their passion.
Recently J prince's artist YBN almighty J was robbed and cut in New york City. Hocus used his street cred to recover the chain for J Prince and avoided a potential east coast down south war.
Hocus have recorded songs with DMX, styles p, fred the godson, Vado, AR AB and many more. He currently have songs in rotation on new york city's #1 radio station HOT 97, being spinned by legends such as DJ Funk Master Flex, DJ Kay Slay and DJ Mister Cee. From being in a jail cell facing life in prison to opening up for DMX at his concerts, i guess it's safe to say that this mans father was right, Hocus is going to be big. He is destined for greatness!